Mosquito nets are good for more than catching fish and keeping the bugs out. They make excellent bridal veils and, it turns out, can sub for histology cassettes.
Normal histology cassettes look like this.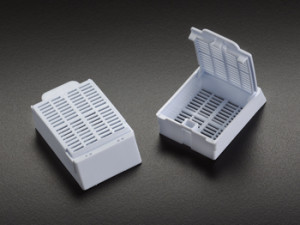 They are used to hold tissues – like bits of liver or gonad that you have dissected out of a fish. Once in the cassette, you can easily soak the tissues in preservatives like formalin or ethanol, thus keeping them for processing months from now.
Given that I would need to preserve tissues, I did bring some cassettes with me, but only enough to get started. I expected to buy more here. There is a Fisher Scientific distribution center in Gaborone, so I was thinking I would probably order from them. And I can, but the shipping here has been (so far) either expensive or unreliable, so I'm looking for locally available alternatives.
To illustrate the shipping conundrum: My husband tried mailing camera filters to me at the Research Institute. But after three weeks, he got them back. They had made a nice round trip to Botswana and home again. So, when I needed him to ship me a tiny jewelry balance for weighing fish tissues, we opted for something with tracking. Enter DHL, which is more widely used in Botswana than FedEx. They let me ship the balance to their office where I picked it up.
Not packing a balance in my luggage was an expensive oversight. The balance itself was $139, purchased from a U.S. vendor. Despite being the tiniest balance ever, so not very heavy, the shipping and import taxes mounted up to $220. Ouch! I usually live in the land of free shipping, so this was an unpleasant surprise. Though at the same time, I am deeply grateful to have the balance, which is critical for my data collection, so I will limit my complaining.
Anyway, back to the point – which is that I haven't yet discovered how to get stuff shipped to me for a reasonable price and with reasonable reliability. Perhaps it can be done by getting my own post box at the post office (since houses don't have addresses in Maun). I'll add that to my to-do list, right after "get car fixed with parts from South Africa", "let landlord know that we have no water coming out of the taps", and "find son's hat so he can avoid a third day of break detention at school" (yes – these were/are all real challenges happening this week at our house).
In light of all this, I needed to find more cassettes or cassette alternatives for my upcoming field work. So, I am going to re-use the cassettes I brought in my luggage, which means I need somewhere to keep the tissues I have already collected. And I need to keep them soaking in formalin, and they need to be individually labeled. So, I have transferred all my preserved tissues into neat little packs made by rolling the tissues in squares of (non-pesticide impregnated) mosquito netting. The netting allows them to stay separate while still soaking happily in formalin.
Now, what could I use for pipette tips???