We recently passed through the town of Gumare in north western Botswana. We stopped to use restrooms at the petrol station, but there was no water (so pee in the bush please).
Yes – no water. No flushing, no sinks, no water.
Easy for us. We were just passing through. But, what if you live in Gumare? What the heck do you do without water? Coming from well-watered Tennessee, this is a difficult predicament to imagine, but is absolute reality here. A recent article by Nicholas St. Fleur in the New York Times reported that "about four billion people, or two-thirds of the world's population, face severe water shortages during at least one month every year".
According to my colleague, there is a river near Gumare – how near I am not sure. "Nearby" often means miles in Botswana. Even so, people walk to the river and bring water home in a bucket. Or, if they have the money, they drive to get water. Or they pump water from bore holes (wells) if the bore holes aren't dry.
Trading oil for water. We do a lot of that here in Botswana. And it makes water very expensive.
I will say that living without water is very difficult. Try it for three hours and then imagine doing it for a month. At our house in Maun, which gets water from a bore hole, we regularly don't have water – usually because there is no power for the pump. We store water in bottles for these times, which happen about once per week and can last a day. Bore holes around Maun are starting to dry up, so it is entirely possible that ours will too.  If that happens, you can be sure I'll write about it.
In fact, today, I tried to use a restroom at a restaurant in Maun. The signs on the door asked guests to conserve water because they are running out. Turns out the signs are old. They have run out of water. No water was in the toilet tanks. No water came out of the taps.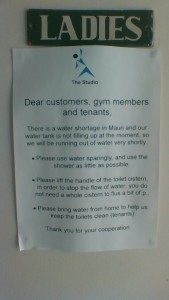 This is the sign outside the ladies bathroom in the Maun Airport.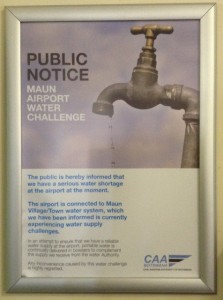 The drought is not only impacting Botswana. Our neighboring country of Zimbabwe is also critically affected. Zimbabwean Climate Minister Oppha Kashiri estimates that more than 12,000 boreholes across the country have gone dry, according to a recent article by Ignatius Banda at the Inter Press Service. This means nation-wide food shortages and reduced availability of electricity, which is generated through hydro-electric power.
Both Zimbabwe and Zambia get large portions of their electricity from a hydroelectric facility at Lake Kariba, which is just 12% full. Compare this to 53% full this time last year.
So, this is how climate change is playing out in southern Africa: poor rains, drought, water shortages, crop failures, dying livestock, power cuts – I have witnessed all these in my 2.5 months in Botswana.
I worry that hunger and human tragedy are coming.