June 1, 2016
"It feels like Jurassic Park."  That's what John said, and I had thought it myself before.  Coming round a bend in the river, we met an elephant grazing in the flooded grasses.  We floated by, he grazed, winding his trunk around grasses to tug them from their roots.  Before each mouthful, the elephant swished the cut grass back and forth through the water, to wash it perhaps.  Then into his mouth it went.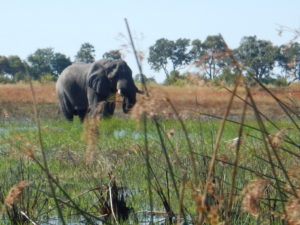 According to the National Elephant Center (located in Florida of all places), elephants spend 12-18 hours a day feeding and eat 200 – 600 pounds of vegetation.  They also drink a bath tub sized volume of water every day.  It's true that almost every elephant we saw was eating or drinking.
The day had started with an hour's drive through deep sand.  Our research team had grown. In addition to our usual group of Mos, Rele, and me, we also had my husband, Brandon Moore, and our colleague John Brock.
Brandon is a crocodilian biologist.  He studies "the evolution and functional morphology of archosaur genitalia."  That is a fancy way of saying that he studies crocs, alligators, and birds (all classified as "archosaurs") to figure out how their reproductive parts work and why they are shaped the way they are.  I should get him a t-shirt that says "I study croc junk."  Trust me, his research topic makes for great conversations with strangers on trains.
At this point, you might be wondering why a person would study archosaur genitalia.  It's amazingly cool.  First of all, there is huge diversity in the shapes and sizes of archosaur penises and vaginas.  Consider the small stifftail duck from South America.  It has a penis that is almost half a meter long and shaped like a corkscrew.  You can read more about it here.  The male duck might need such an impressive appendage to attract females and outcompete other males.  The vagina of the female is similarly ornate, a characteristic that allows her to physically exclude unwanted males.
Compare ducks to little tweety birds, which have no penis at all.  When they mate, they do a "cloacal kiss", which basically involves males and females rubbing bums together and hoping for some sperm transfer.  Obviously it works.  All this is interesting, but how does it fit into big science?
For all organisms, reproduction is key to the success of a species.  Therefore the parts that control reproduction (like genitalia) are also keys to success.  So why all the differences?  What shapes the diversity?  How successful are the different strategies?  Do males and females benefit equally?  These are the questions Brandon asks in his research.  Though for this trip (and perhaps to the relief of the crocodiles), he was along to help us and see my research sites.
Our fifth team member was John Brock, friend, collaborator, and environmental chemist from UNC-Asheville.  He was visiting for 10 days and a whirlwind tour of the Okavango to collect water and soil samples.  Since I study the effects of pollution on fish, it's helpful to know what kinds of pollution are in the Delta, and that's where John comes in.  His lab is equipped with the kinds of expensive and complicated equipment that either draw you in as a scientist, or make you grateful to have John as a collaborator.  I am in the latter group.  My short-lived experience with a large and persnickety machine adorned with flashing lights and inexplicable switches persuaded me to go for field biology instead of analytical chemistry.
But back to our story.  After the sandy morning drive from Maun, we arrived at the banks of the Boro River, which was not nearly as flooded as we had hoped.  The Boro runs down the southwestern side of Chief's Island.  In drought years, it can run dry in its southern reaches.  But we were here in June, and the arrival of the annual Okavango flood to this part of the Boro had been reported at least three weeks ago.  Nonetheless, the boat launching area was crowded with safari guides and others, all trying to figure out how to launch or retrieve boats from 18 inches of water.  Residents from a nearby village were doing their laundry and watching the spectacle, heckling or shouting advice to drivers as wheels spun in the mud.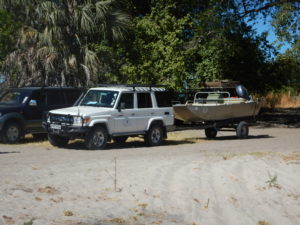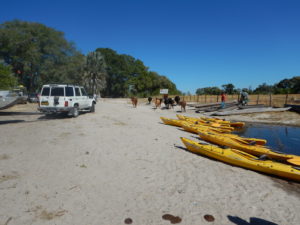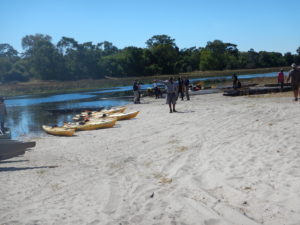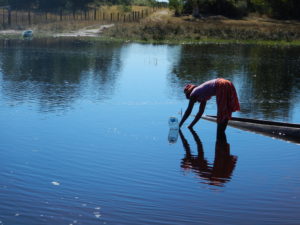 We joined the fray, confidently backing our truck and trailer into the river.  Rele unhooked the boat from the trailer, at which point it should float free.  But the boat stayed put, like a block of cement, no doubt weighed down by our stacks of geer.  John and I hovered on the river bank.  Mos backed the truck further into the water.  Brandon waded in to give the boat a push.  Crocodiles eyed us hungrily from the opposite shore.
Just kidding, we didn't see any crocs.  They were probably around, but all the noise and human presence really isn't their scene.  I was much more worried about bilharzia (schistosomiasis), an insidious disease you get from freshwater parasitic worms that burrow into your skin, slide into your blood stream, and slither up to your liver where they siphon off nutrients and breed.  Months later, you'll know you have bilharzia because your abdomen becomes distended with fluid and you start to pee blood.  It can be cured, thank goodness.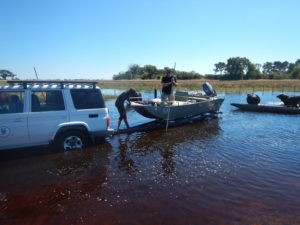 A local man took interest in our situation and joined Brandon and Rele in heaving the boat this way and that, trying to free it from the raised bars on the side of the trailer.  I eyed my equipment, stacked inside pelican cases at the front of the boat.  I calculated how floatable and watertight the cases would be if they were thrown into the river.  We also had tents, bedding, drinking water, a cooler of food.  All teetering with the fate of the boat.  In the meantime, we were joined by a herd of cattle, coming down to the river for daily libations.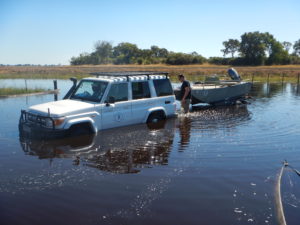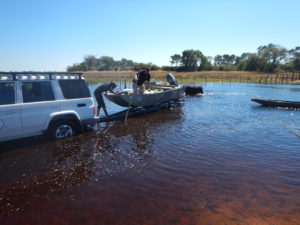 The day wore on, the sun rose in the sky.  By now, the local washing was hung to dry in festive garlands along fences.  We decided to detach the trailer from the truck, making space to push the boat forwards instead of backwards.  The nose of the trailer dropped to the river bottom, levering the rear of the boat out of the water with an alarming jolt.  Contents shifted.  I sucked in my breath and paced the shore.  Still the boat wouldn't budge.  We formulated a game plan.  We considered unloading the boat.  It would require several trips in a borrowed canoe to free the boat from its weight.  There were plenty of canoes around, but the time involved made us reluctant.  We opted from one more round of "push like crazy and hope the boat stays upright".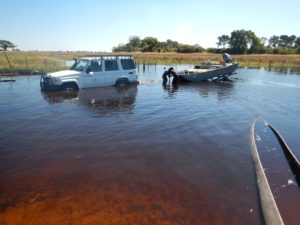 Amazingly it worked.  The guys made it happen.  At the moment of maximum teeter, the boat slid off the trailer, avoided a sharp nail protruding from the trailer head, and splashed onto the water.  Cooler and pelican cases slid to their resting spots.  Brandon, Rele, and our local man were fully soaked.  The recalcitrant boat floated free, probably giggling quietly at its triumph.  We pulled the trailer from the sand.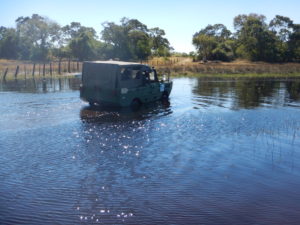 It was noon, basically lunch time and we had accomplished launch.  The good news was that a colleague from ORI had by now arrived with the boat battery, which we had forgotten to bring.  We parked the truck, checked our stuff, and began the 5 hour boat trip up river.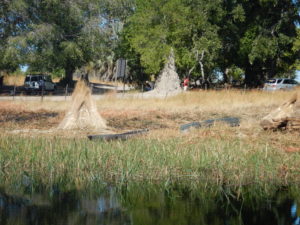 The early part of the trip meandered through grasslands that had recently been harvested for roofing thatch.  Some areas had also been burned.  It was not especially beautiful.  There were cows but no wildlife.  I felt sorry for the tourists on mokoro trips, who would probably turn around before they got to see the real Delta.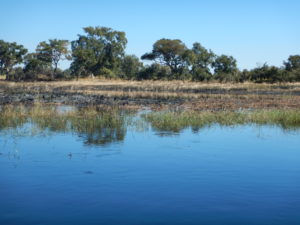 The river was shallow, forcing us to drive slowly to avoid sand banks and grass tangles.  We edged up the river at 8 km/hour.  My GPS estimated we would arrive at ORI's Chief's Island camp by 9pm, hours after the sun went down.  Normal people would probably turn around, but we continued.  I knew Mos would get us there.  And if he didn't, we'd still be fine, camping on an island, watching the stars, cooking over a campfire, listening to bell frogs and hippos.  Either way, the trip was going to be wondrous.